SUITE AMENITIES
The UPside suites are modern, stylish and contemporary featuring bright neutral colours, sleek open-concept kitchens paired with stainless steel appliances together with laminate-look and ceramic tile flooring throughout each unit. Each suite has its own balcony with views of the beautiful Halifax Harbour and skyline.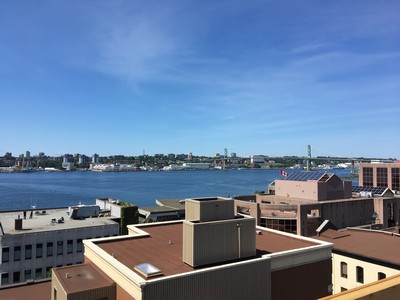 As a resident of the UPside, you can expect great amenities such as:
South facing suites with individual balconies
Heightened building, garage and suite safety and security
Underground parking and bike storage
Environmentally friendly integrated heat recovery and grey water systems
2 min. (150m) access to Metro Transit Bus and Ferry Routes
Downtown living in a revitalized and vibrant neighborhood
Many new coffee shops, markets, restaurants and pubs
Steps away from Professional, Banking and Medical services
Access to walking trails and harbour frontage
Rooftop terrace with panoramic views of Halifax Harbour and Skyline
Smoke and Pet free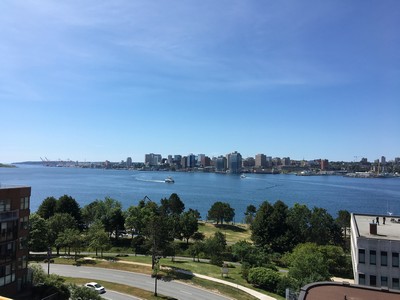 BUILDING FEATURES

Environmental Sustainability
Urchin Holdings Ltd. is committed to building and developing commercial and residential projects in ways which improve the state of the environment.

We feel that the Upside is one of the most recent environment-conscious developments constructed in recent years in the HRM. We have worked hard to create a space with significant water and energy saving designs. Although this achievement often results in increased construction costs, we are pleased to say that the UPside reduces harm to the environment while maintaining a smaller ecological footprint.

Water Conservation
The UPside incorporates a unique water drainage system where water from the shower/ bathtub and laundry are collected internally where heat pumps extract the residual heat and transfer it to the building's in-floor radiant heating system for its lobby and hallways.

Energy Conservation
Each UPside suite has large, South facing windows which promotes and captures passive solar heat. Also, each suite has its own heat pump allowing residents to individualize temperature and subsequent power consumption. Each unit's heat pump, combined with the UPside's heat recovery and separate grey water systems, ensures that unit operating costs are reduced significantly.

SECURITY
Access to the lobby and floor levels is granted only by individually programmed security fobs. Residents will only have access to their own suite's floor as well as the garage level they have been registered for.

SUNDECK
The UPside rooftop sundeck offers breathtaking 7th floor views of the Halifax Harbour and Skyline and is accessible to all residents.